I løbet af vinteren 2020, hvor Covid-19 igen var begyndt at blusse op igen, gik jeg med nogle planer om at lave tage på en mc tur, hvor jeg kunne komme retur til Dolomitterne og køre dernede i nogle dage og se en masse af området omkring Corvara, også kombinere det med nogle af de bjergtoppe, som jeg havde set i Tour de France igennem årerne.
Det blev hurtigt klart, at det nok ikke ville kunne ske i en forlænget påskeferie, for der var restriktioner i de enkelte lande nok ikke ophævet, så jeg besluttede mig for at holde en sen sommerferie, som skulle starte i slutningen af august og gå ind i september, for Dolomitterne ligger jo i Italien, og rygtet siger, at de lokale holder ferie i august, så jeg fulgte rygte og lagde min ferie uden for den måned.
Jeg lavede en masse research om Dolomitterne og fandt en masse rejsebeskrivelser fra andre mc ture, og så lagde jeg en 3-4 ruter ind i min GPS for steder i Dolomitterne, som jeg ville besøge.
Herefter gik jeg igang med Tour de France, og jeg fandt mange af de berømte bjergtoppe a la Tourmalet og Alpe d'Huez og en masse andre, også lod jeg GPS finde den smarteste rute imellem dem, når jeg satte indstillinger på undgå motorveje, og den rute smed jeg så i GPS.
Som I ved, så er vi 2 skribenter på siden, og jeg forelagde planen for den anden skribent, og han var med på at tage med på den første del af ruten, som lå i Italien, men da han havde lidt bøvl med togbillet, så kørte han i forvejen og ville møde mig i Innsbruch, da mit tog kom.
Efter en masse forberedelser og bookning af tog fra Hamburg-Altona til Innsbruch med biltog, så var jeg klar til afrejse.
25.august 2021
Jeg valgte at tage motorcykel på job, også fortsætte derfra til Hamburg-Altona banegård, hvor jeg tog biltoget til Innsbruck om aftenen, så jeg næste morgen ville være fremme omkring kl 09.15.
Turen til Hamborg var der ikke meget at berette om udover det regnede lidt for meget og folk bærer mundbind i Tyskland, så det skulle jeg lige vænne mig til, men det gik fint med at få Helena (motorcyklen) på toget, og jeg fandt let min kupe, hvor jeg skulle tilbringe natten.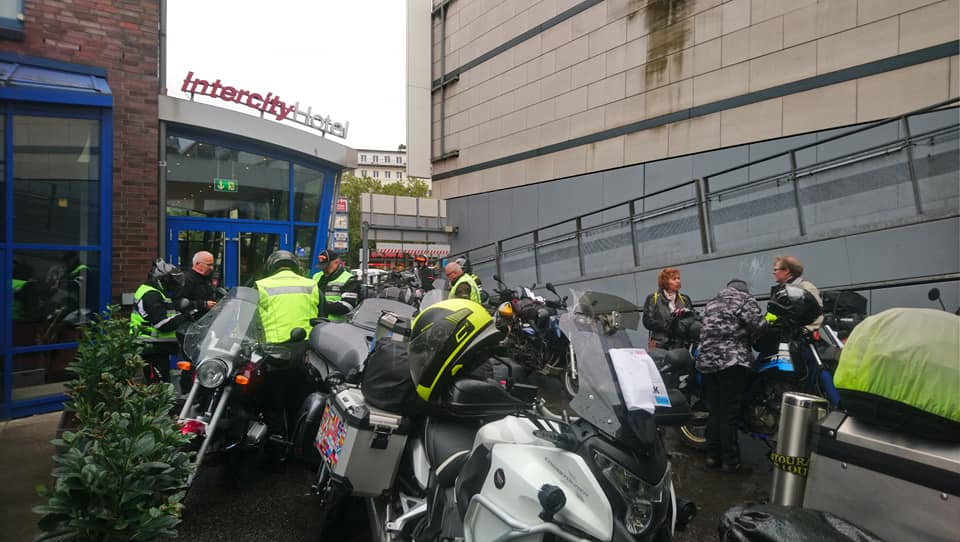 26.august 2021
Efter en lidt urolig nat i toget kom Helena og jeg godt af toget, og vi fik kontakt med den anden skribent relativt hurtigt, og vi fik hurtigt skabt kontakt via samtaleanlæg i hjelmene, så jeg kunne få en opdatering omkring hans tur til Innsbruck og han kunne høre om det regnvejr, som jeg havde hygge mig med.
Vi valgte at tage den første snoede rute over Gerlos pass, så vi kunne komme i træning til de mange sving i Dolomitterne. Jeg vil lige gøre opmærksom på, at man på toppen tager 7€ for et dagskort og klistermærke, når man kommer på mc, men det er da en fantastisk rute over Zillertall.
Efter lidt kørsel på snoede alpeveje og udsigt til Krimmlervandfaldene, så gjorde vi kort stop på McD for at få en kop kaffe og et par cheeseburgere.
Vi kom igennem Kitzbühel og St. Johann, som mange formentlig kender fra deres skiferier. Der var tale om rigtig skønne veje trods regnen.
Derudover skulle vi også have skiftet til regntøj, for det var begyndt at regne. Vi valgte at følge miljørute til Berchtesgaten, hvor vi havde booket en overnatning via booking. Jeg havde booket overnatning hjemmefra på China-Zimmer i Berchtesgaten og det var ligesom at komme tilbage til Chinatown med ældre kinesisk mormor, som på blanding af tysk og kinesisk fik budt os velkommen.
Jeg havde det lidt som om, at vi kom nok nærmere 0 stjerner end 6 stjerner på dette overnatningssted, men vi fik en fin seng og der var ikke langt til gågaden, hvor vi iført mundbind kunne få lidt aftensmad.
Vi sluttede aftenen af med god mad Bier Adam, som klart kan anbefales. Det var fantastisk bayersk mad og gode værter.
27. august 2021
Vi kom fra China Ferien Zimmer i regnvejr, så det var et par våde mænd, som kom frem til Obersalzberg for at tage bussen op til Kehlsteinhaus bedre kendt som Ørnereden eller Eagles Nest.
Vi var lidt langsomme til at få bestilt billet og købe de rigtige PFF2 mundbind, så klokken blev 08.57, så dagens første bustur, der var programsat til 08.55 holdt stille og ventede til næste afgang kl 09.20, for der var jo ingen gæster med billet kl 08.54…
Tysk grundighed rammer hårdt…
Men jeg har selv lidt af det selvsamme, så jeg smagte min egen medicin.
Desværre var vi uheldige med vejret, for det regnede og var meget tåget på toppen. حساب بايير Man kunne ikke engang se 50 m frem, så den skønne udsigt fra toppen må vi have tilgode.
Jeg vil sige, at hvis man skal have fuldt udbytte bør man tage derop i skyfrit eller maksimalt letskyet vejr. Udsigten er det som giver oplevelsen lidt ekstra, selvom det var en meget fin elevatortur 124m direkte op midt ind i et bjerg, men det kan I selv vurdere ud fra billederne.
Herefter stod den på kort besøg ved det hus , som man brugte som kroen 'Den Hvide Hest' i den danske film 'Sommer i Tyrol' . Vi fandt den via meget små veje, og det blev lidt spændende at køre ned igen, da regnen igen væltede ned.
Vi var dog ikke slået ud, så vi fortsatte mod Großglockner, for det er jo også en af de ruter, som man som mc kører har hørt meget, så den ville vi naturligvis også tage på vejen mod Dolomitterne.
Såfremt I ikke er bekendt med det, så er Großglockner Alpestrasse en betalingsvej, så man betaler for at få oplevelsen.
Da vi købte vores billet til 27,50€ var manden i boksen meget omhyggelig med at fortælle os, at vi skulle køre lige over og passe meget på regnvand og sne i tunellerne, for der var koldt på toppen.
Vi valgte trods advarsler at tage udfordringen med Edelweisshütte i 2.571 meters højde trods brosten de sidste 6 sving og lidt snefnug på toppen, men det skildres meget godt i denne korte video på Youtube.
Det var omkring 2 grader deroppe, så det blev til hurtige fotos og meget langsom kørsel nedad igen.
Med den succes i banken, så tog vi også Kaiser-Franz-Josefs-Höhe bagefter, og her var der asfalt hele vejen. Vi nåede igen et par fotos inden regn og tåge kom.
Herfra gik de af meget små og ensporede vej nedad mod Lienz, hvor vi drejede mod Pension Stöcklmühl, der ligger i Oberdrauburg.
Solen brød igennem og vi blev hjertelig modtaget af kromanden, og inden vi så os om fik vi vores nøgler til to skønne værelser.
I forbindelse med udlevering af nøgler spurgte jeg ind til lidt aftensmad, og de ville næsten være lidt skuffede, hvis vi ikke spiste ved dem, og det forstod vi, for vi fik et fantastisk måltid.
28. august 2021
Dagens etape var ment som en transportetape imellem Oberdrauburg og mod Corvara in Badia, som danner base for de næste 3 dage, men det skulle vise sig at være en fantastisk dag med start over Plöckenpass via rute 110 og ind i Italien på SS52.
I lighed med de øvrige motorcyklister, så fik vi tanket i Østrig, da benzin er lidt billigere end Italien og Tyskland.
Vi fulgte SS22 indtil vi kom til SS465, som vi fulgte et stykke indtil vejen var spærret for gennemkørsel omkring Comeglians, så vi måtte lige opdatere ruten på vores GPS, og det gjorde vi fulgte en flod langs SR355 indtil Villa Santina, også fulgte vi SP52 indtil Sante Caterina, også var det SR48 hele vejen til Arabba inden vi kørte mod Corvara in Badia via SP244.
Undervejs på turen kom vi forbi disse steder:
Della Diga, Sella Ciampigotto, Passo Tre Croci samt Passo Giau.
Vi mødte en masse motorcykler, som var ude i det skønne vejr.
Vi fandt også relativt hurtigt det sted, som skulle danne base for de kommende 3 dage, og her kunne vi få parkeret vores motorcykler under garagetaget, så de holdte i tørvejr.
29. august 2021
Så blev det første køredag i Dolomitterne, og det blev en fin dag, hvor det blev til omkring 150 km op og ned af nogle pas fra begge sider, for GPS'en spillede mig et puds i dag. Den ville ikke helt som jeg ville, men jeg er temmelig sikker på, at vi kom over følgende pas: Passo di Gardena, Passo di Sella, Passo Pordoi fra begge sider, Passo Fedaia.
Vi var lidt sent ude fra morgenstunden og tog den lidt for meget med ro, så vi kom ud og kæmpe lidt med autocampere og andre varebiler på vejene, også havde små 500 cyklister valgt at bestige de forskellige pas samtidig med os, for det var jo søndag, også skal de lokale og turister jo ud og prøve kræfter med vejene.
På Passo Fedaia fik vi frokost med en masse andre motorcyklister.
Det gik fint med cyklister, for motorcyklister og cyklister passer på hinanden, og vi tager sving rimelig ens.
Desværre havde vi en episode med en hollandsk varebil, som var lavet til camper, og jeg må sige, at chaufføren kommer ikke med i min aftenbøn, for han tænkte kun på sig selv og blokerede for at overhale og skabte meget farlige situationer for alle hans medtrafikanter, men efter kort pause, så var humøret igen i top.
Jeg vil dog sige, at efter frokost på toppen af Passo Fediai, så gjorde vi stop ved en inddæmmet sø eller lignende, og her fik vi et flot billede af vores motorcykler, så husk at få den del med.
30. august 2021
Belært af gårdagens oplevelser, så startede vi tidligt ud denne morgen. Vi startede dagen med at køre nordpå via SS244, og det første stykke tid måtte vi hygge os bag en bus med anhænger til cykler, så vi slap ikke helt for cyklister i dag. Men der var meget færre af dem på vejene i dag.
Det hang nok sammen med, at det regnede lidt i dag og var blevet mandag, også er cykler ned ad bakke på våde veje nok ikke at foretrække.
Da vi nåede lidt nordpå, så drejede vi til højre og sagde farvel til bussen og gjorde klar til Passo Furcia, som var en pæn stigning, men ikke så mange hårnålesving som i går, så det var en fin start.
Herefter var målet at komme til søen (Lago di Braies), som er en indesø i højden, og det gik fint med at komme ned mod den, men små 5,5 km før målet blev vi stoppet af et par vagter, som ikke ville lade os køre videre.
Vi gjorde kort stop og rådførte os med turistkontoret, som lå lige ved den rundkørsel, hvor de ikke ville lade os komme videre. Tja, det kostede 15€ for hver af os at få en parkeringsplads længere fremme, og uden den, så kunne vi ikke komme videre, og den skulle i øvrigt bestilles på nettet.
Jeg tror, at hvis man kom meget tidligt, så kune man være listet derned, men vi valgte at vende rundt i lighed med mange andre motorcyklister, som var ligeså forundret som os. Næste punkt var et udsigtspunkt til de berømte tre tinder i Dolomitterne, og der var en fin parkeringsplads uden betaling på Via Dolomiti 45, hvor man kunne se op til tinderne. Vi var lidt uheldige med vejret i dag, så der lå skyer foran de tre tinder, og der lå de nærmest konstant i den halve time, som vi gjorde stop her.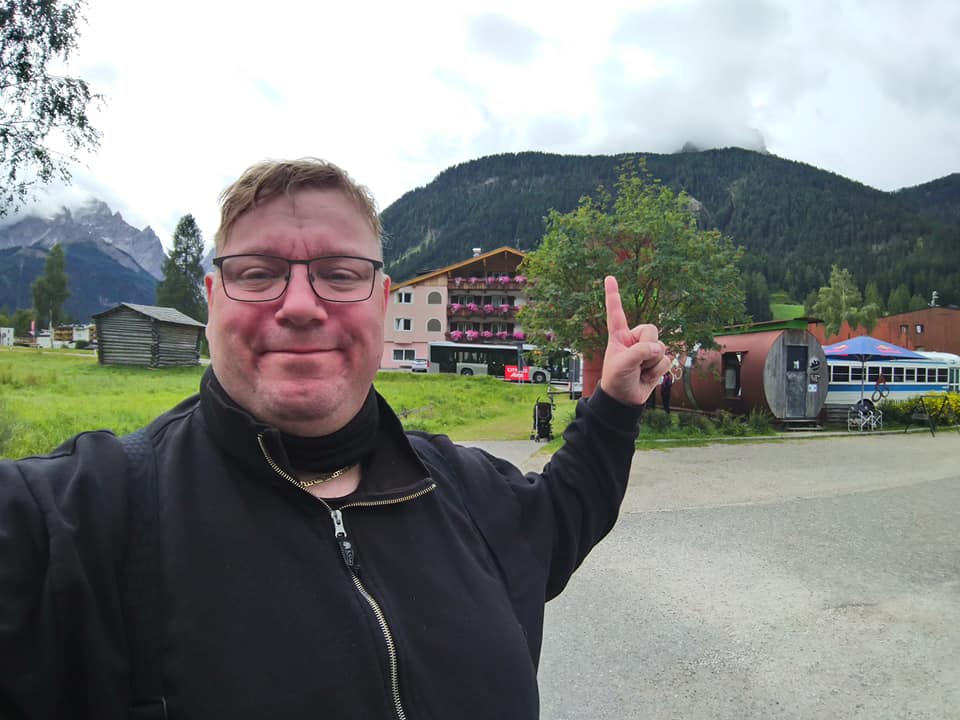 Vi havde håbet på et par billeder af motorcyklerne med de tre tinder i baggrunden, men det må vi have tilgode. Vi kørte retur af SS49 og drejede nede af SS51, som bragte os ned mod endnu en sø (Lago di Misurina), som ligger på SS48bis, men her var der endnu engang betaling for at komme tæt på, men vi fik da set et par andre flotte søer videre på ruten, så det overlevede vi.
På hjemvejen mod basen i Corvara de Badia kørte vi via SP638 igen forbi Passo Giau, men denne gang i silende regnvejr, så det gjorde, at vi denne gang ikke gjorde stop og tog billeder. Herfra fulgte vi SP251 og videre på SR203 for at komme op til SR48, så vi kunne krydse Passo di Falzarego, og kort efter toppen drejede vi ned ad SP24, så vi kunne krydse Passo di Valparola inden vi tog SS244 hjemad.
Dagens rute var på små 207 km. Vi valgte at holde kort pause, da vi kom hjem, også tog vi ned og handlede lidt forsyninger i Spar inden vi spiste lidt aftensmad på et lokalt spisested, og her måtte vi konstatere, at en portion ocso buco ikke var nok, så vi delte lige en pizza til dessert.
31. august 2021
Dagens rute blev lagt ind i GPS'en, og det skulle ende med at blive til 11 bjergtoppe på 235 km, og derved nåede vi på den anden side af 300 hårnålesving inden vi nåede retur, så vi havde spændende dag foran os.
Det var et fantastisk vejr, så der blev optaget en masse video og nydt skønne landskaber, men det blev ikke til så mange billeder, og det skyldes nok, at vi havde set de fleste af passene før, men der var et par nye pas lod syd, som vi ikke havde prøvet kræfter med tidligere, så det var skønt, og her gjorde vi et længere pitstop ved en kirke, da vejret var fantastisk.
Efter lidt siesta tog vi videre rundt og havde et pitstop ved Passo Rollo, som virkelig er et flot pas, men vi havde også et par mørke skyer, som begyndte at trænge sig på.
Så vi havde kun kort pitstop på toppen inden vi fulgte de velkendte veje hjemad mod vores overnatningssted.
Da vi kom hjem tog vi et varmt bad og gjorde os fine til middag ude. Vi startede blidt ud med lidt tartar til forret, også bestilte vi steg til hovedret… Den var lidt større end forventet, men vi spiste op.. Nu slår vi mave og lader op til imorgen,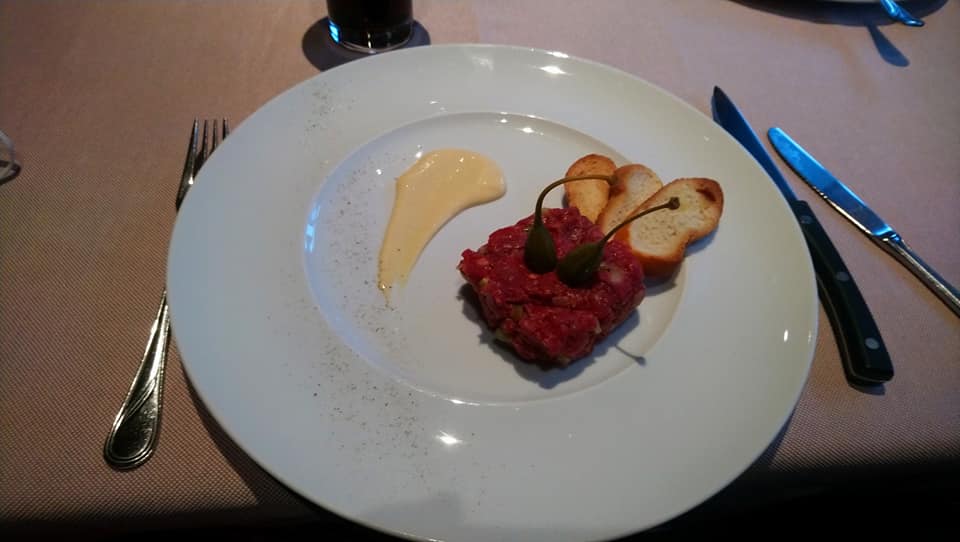 1. september 2021
Efter 3 skønne dage i Dolomitterne med fast base var det nu tid til at komme videre, selvom det er svært at komme fra et sted med sådan en smuk udsigt fra værelset.
Vi startede ud efter lidt morgenmad, og det var vist godt for vores maskiner, at de lige blev luftet lidt ud og kom op i hastighed på motorvejen mod Brenner passet. Herfra drejede vi fra mod Jaufenpass, da det er et skønt pas, som jeg har passeret en del gange efterhånden, og den skønne udsigt fra toppen svigtede heller ikke denne gang.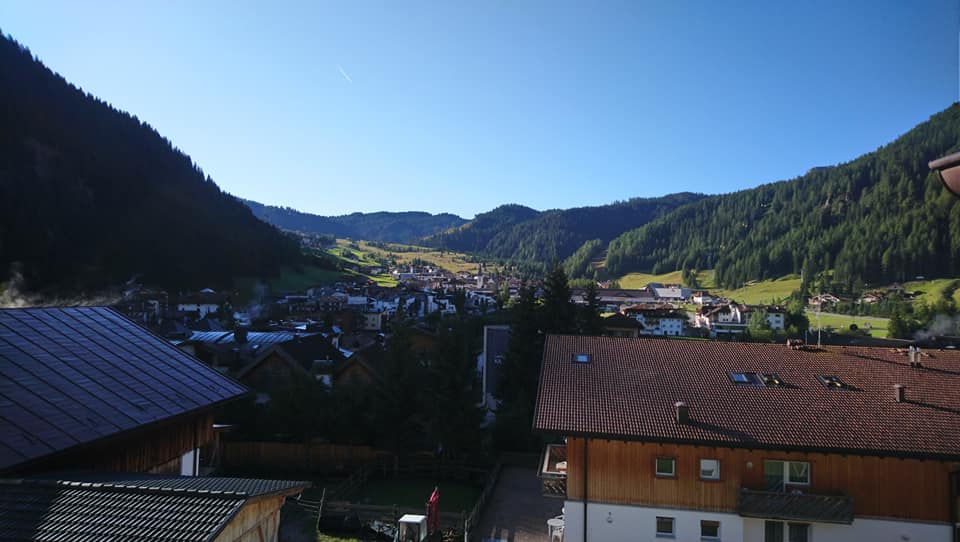 Herfra smuttede vi med landevejene mod de berømte 48 sving, der danner vejen til toppen af Stelvio passet, hvis man kører øst mod vest, og det er også den vej, at jeg vil anbefale, at man tager turen, når man skal opleve Stelvio passet første gang.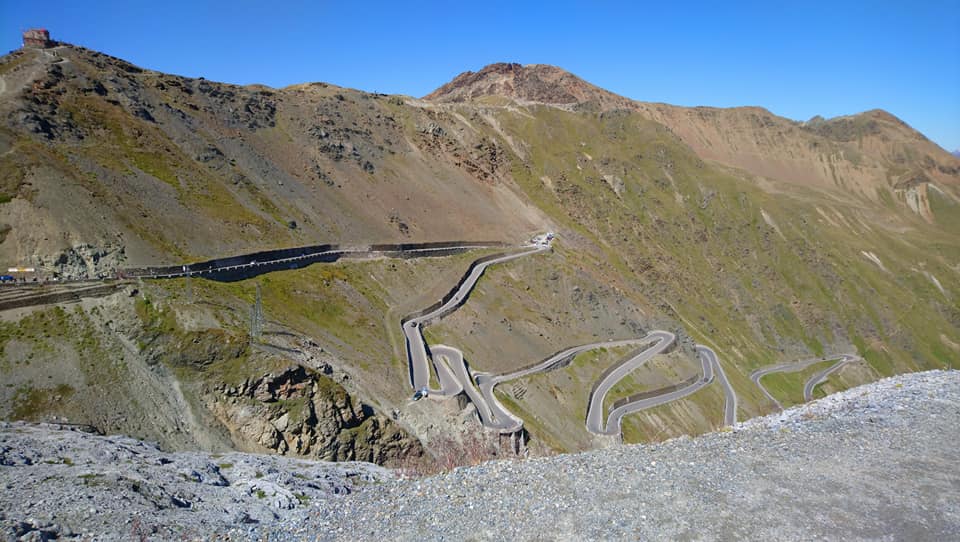 Efter at have passeret toppen, så drejede vi til venstre midt i byen og kørte op mod en kinesisk restaurant, for det er oppe ved den, at man kan få et par gode billeder af de mange sving og området.
Men vi tog da også et par af de obligatoriske billeder inde fra byen, hvor man møder et hav af folk på motorcykler, cykler og smarte biler. في اي دوري يلعب بايرن ميونخ
På toppen fik vi lidt føde til ublu priser inden vi kørte ned på den modsatte side og på bagsiden kan man tage en smut ind i Schweiz, men det gjorde vi ikke på denne tur, men vi fik da taget et billede fra den modsatte side.
Da vi kom ned i dalen, så fulgte vi rute SS38 mod Bagni de Bormio, også krydsede op mod Passo Gavia via rute SP29, og det skyldes, at jeg tidligere har passeret dette pas og ønskede at vise det frem for min medskribent på siden, da han ikke havde været med nedover tidligere.
Jeg vil så sige, at Passo Gavia står for mig som et rigtig fint pas, hvor man nu har fået repareret asfalten, så den gav ikke helt de samme udfordringer, som jeg var blevet mødt af i 2018, hvor de havde skrabet asfalten af, men det er forsat et pas, som kan anbefales at passere, da naturen er skøn.
Herfra tog vi til en bed and breakfast i en af de små byer små 10 km fra Ponte de Ligno, og her fandt vi frem til et billigt pizzeria, som stod for dagens aftensmad.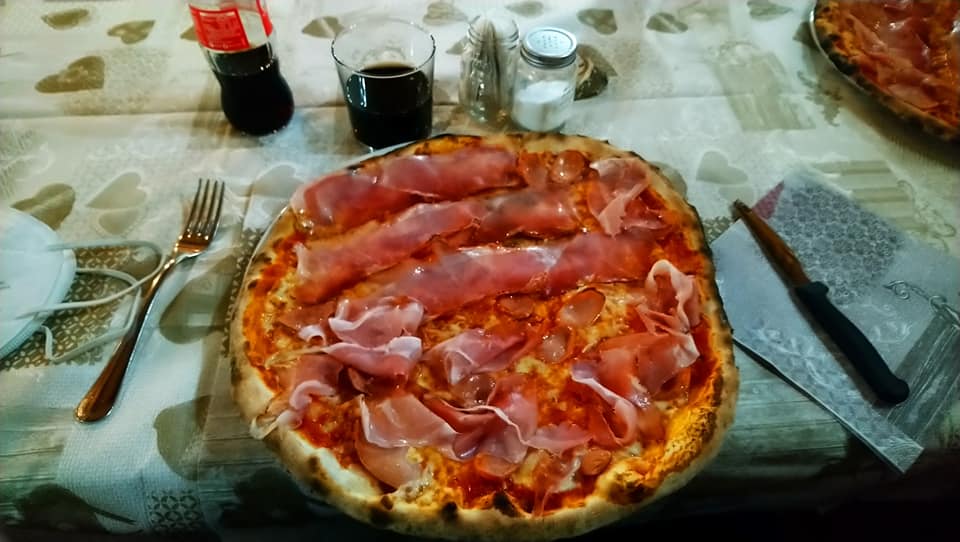 2. september 2021
Så kom dagen, hvor den anden medskribent tog nordpå igen efter en masse gode dage i Dolomitterne og en tur over Stelvio og Passo Gavia, og samtidig fortsatte jeg på turen, som nu gik i retning af bjergtoppene fra Tour de France.
Vi havde begge en lidt sjov oplevelse med vores værelser i denne bed and breakfast, og det var jo en fin nat i gode dobbeltværelser, så plads burde der være i overflod, men brusekabinen var en størrelse small, så det var ikke let at blive vasket, men det har nok passet fint for de lokale.
Det skal så nævnes, at morgenmaden overgik alt det, som vi tidligere har oplevet. Her blev der lavet scrable eggs fra bunden og chokolade croissant til dessert udover 2 kopper frisk brygget kaffe. Jo, det var en fin bed and breakfast i Vezza d'Oglio som vi fandt.
Min medskribent ville prøve at komme så langt nordpå som muligt og det endte vist med, at han tog hele hjemturen i 1 træk.
Jeg ville videre i retning mod Iseo søen via en masse bjergtoppe.. Det startede perfekt med Passo Crocedomino (1.895m), som gav en del udfordringer, for jeg kunne ikke modstå fristelsen for at komme højere op, selvom det krævede en del kilometer på hullet grusvej, men det ser man tydeligt på videoen.
Det var en fantastisk oplevelse at køre i skyerne og blot høre ens åndedræt og en mc, der samarbejder.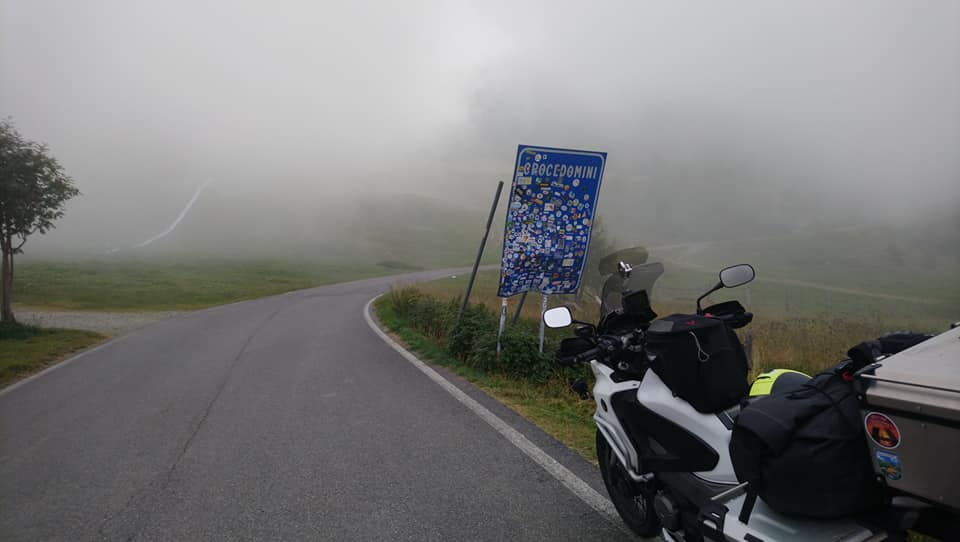 Herefter kørte jeg med snoede veje mod Lovere ved Iseo søen. Fantastisk flot sø. Jeg valgte at følge vejen vest om søen og herved kom næsten ud til kanten. Der var tale om virkelig flotte veje. Ved søens bred var det min plan, at jeg skulle på særlig bjergrute med flotte udsigter. Desværre forstod jeg ikke alle skilte, som stod ved indgangen til ruten, så jeg måtte bittert erfaret, at jeg måtte vende rundt, da hele vejen var spærret.
Nå, men det oplever man jo, når man teoretisk planlægger en rute i ro og mag hjemmefra, også kommer man til virkelighed med vejskred og oversvømmelser.
Ved Iseo søen havde jeg booket et hotel tæt på San Marco passet, så det satte jeg i GPS'en og valgte miljørute. Det startede med at gå op ad meget stejle og smalle gader. Men selv med GPS og koblet den på nettet, så endte ved ved spærret ved på SP91. Så var gode råd dyre.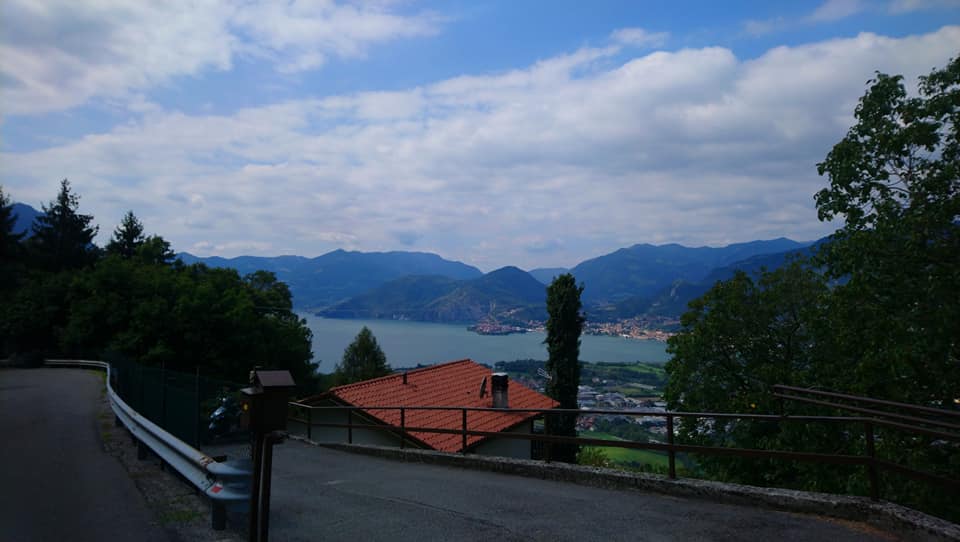 Jeg prøvede Google maps, og den ville samme vej, men der var feature mere på GPS, som hed omgå lukket vej. Den trykkede jeg på, om den omregnede ny rute, som tog 35 minutter længere, og da den lignede et af Googles alternative ruter, så den fulgte jeg, og via Bergkamp kom så jeg frem til overnatningsstedet.
3. september 2021
Dagen startede med morgenmad alene i spisesalen, men det gjorde blot, at jeg kunne få en kop kaffe meget hurtigt..
Jeg fik pakket Helena op og tog fra Mezzoldo omkring kl 09.00 og begav mig op af Passo San Marco, og det er et fint pas i 1.985m højde, hvor jeg igen kom over skyerne igen, så derfor måtte tågelygter tændes på nedturen, så bilerne kunne se mig.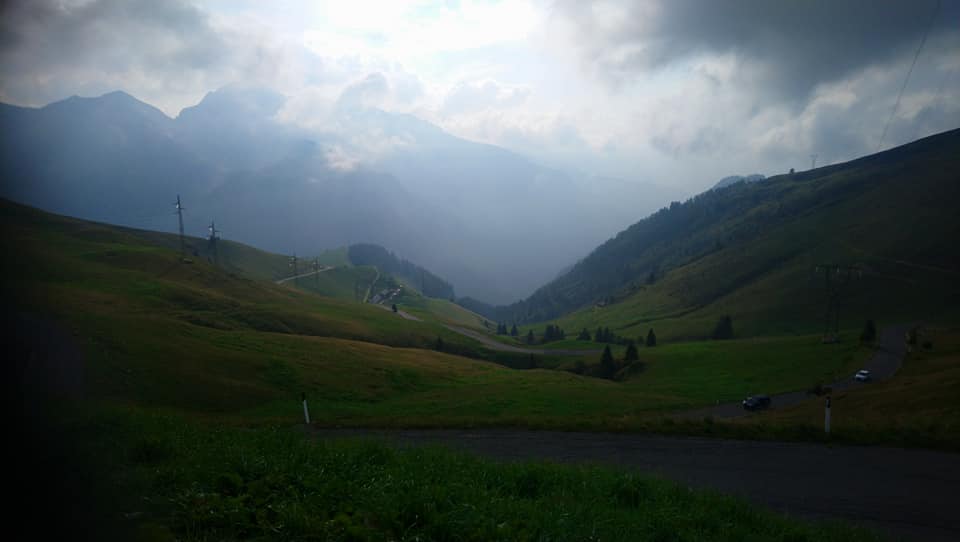 Jeg mødte en masse vandrere, som skulle ud og nyde naturen på stier omkring passet, og de hilste pænt på den ensomme motorcykel.
Efter passet tog jeg SS36 indtil jeg kunne nå kystvejen SP72 ved Fuentes, også kom jeg helt tæt på Como søen, og det er virkelig flot her, og jeg kan godt forstå, at der er mange, som tager til Como søerne i deres ferie, og da man har fine bjergveje, så er det også fint område for motorcykler.
Jeg havde regnet med lidt bjergudfordringer, og dem fik jeg på SP67 og SP66, som det fremgår lidt af billedet jeg tog af min GPS.
Jeg satser på, at jeg senere får opdateret video, så der kommer et link her, men jeg kan afsløre, at jeg skulle ned af rillet bjergskråning og videre op igen, og det klarede Helena i et snuptag
Jeg havde planlagt med tur på SP65 og SP62, men her måtte jeg desværre konstatere, at vejene var lukket, og baseret på erfaringe fra tidligere, så tog jeg ingen chancer idag.
Jeg fulgte i stedet kysten til Lecce/Lecco, som ligger i det ene ben af Como søen også fulgte jeg kystvejen op med SP583 næsten indtil Bellagio.
Her valgte jeg så at krydse ind med bjergveje mod Cavano, og her oplevede jeg en fin kirkegård i vejkanten.
Afslutningsvis fulgte jeg SP22 ud mod Nesso, og her er der et flot udsigtspunkt kaldet Colma di Sormano, hvor jeg strakte lidt ben og nød det gode vejr.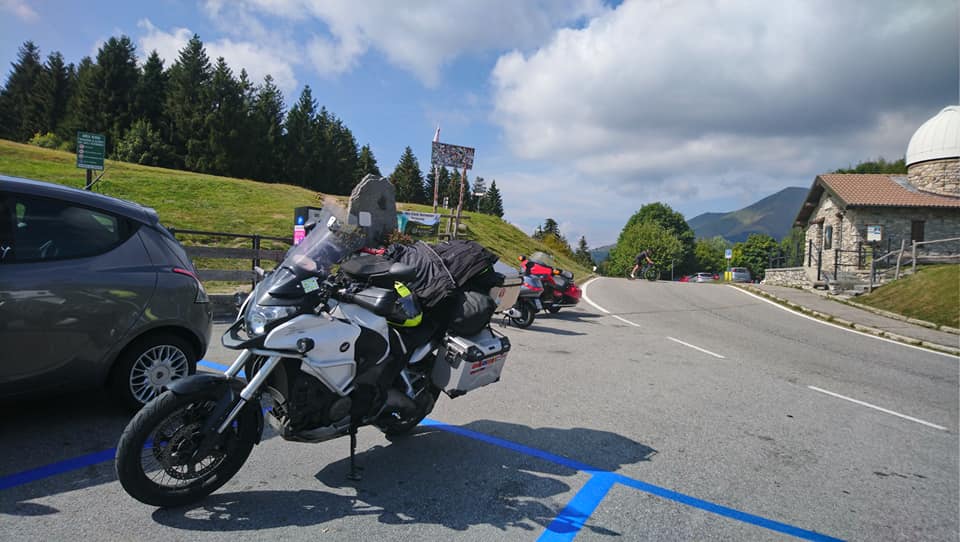 Herefter kørte jeg ned til mit overnatningsted i Nesso, hvor jeg havde booket 2 overnatninger, så jeg lige kunne nyde Comosøen lidt mere og nyde den lokale mad.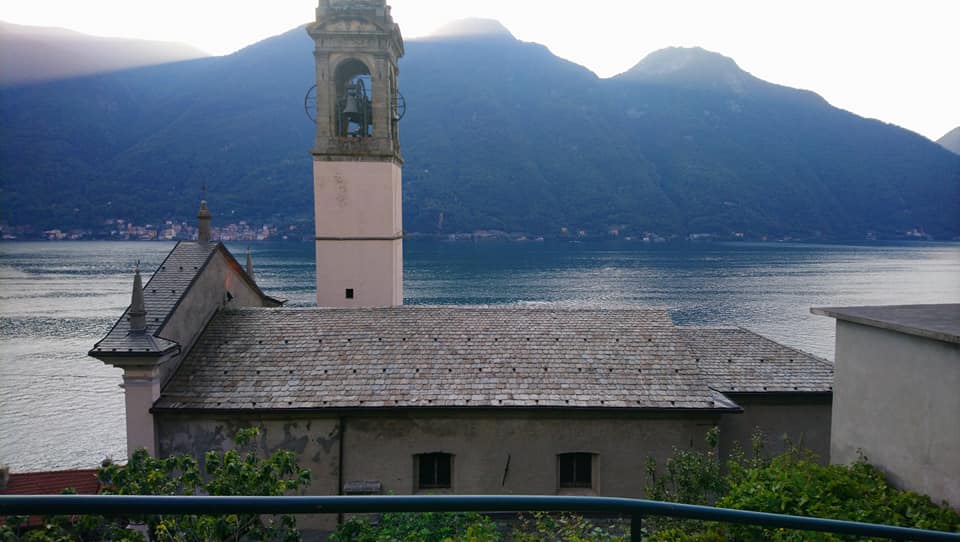 4. september 2021
Efter en rigtig god nats søvn, så vågnede jeg frisk op til en dag med skønt vejr, og jeg blev spurgt, om jeg ville have lidt morgenmad, og jeg har det bedst med at starte dagen med en kop kaffe, så jeg sagde "Si", også fik jeg serveret følgende for 7€.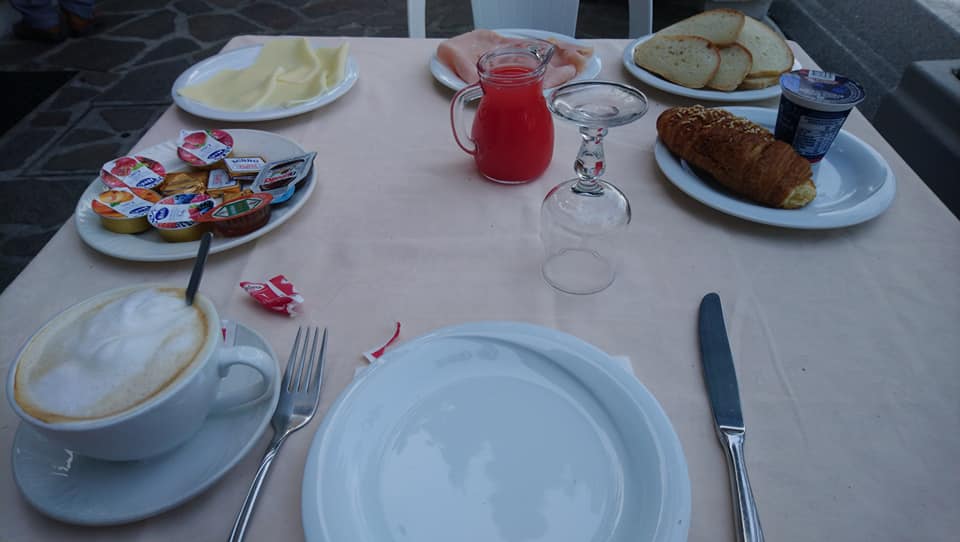 Så efter et solidt måltid, så kørte jeg mod Bellagio for at tage færgen mod Cadenabbia, og på turen dertil gjorde jeg stop ved et sted, hvor man havde udsigt til Villa del Balbianello, men man skulle nok have haft 16 gange optisk zoom for at komme tæt nok på, men jeg fik da lidt fornemmelse af at have set det.
Jeg fandt let færgen og fik købt en billet til den næste afgang til Helena og jeg, og det var til at få en billet på de tidlige afgange uden forudbestilling. Det var en virkelig flot sejlads og der blev tid til et par billeder.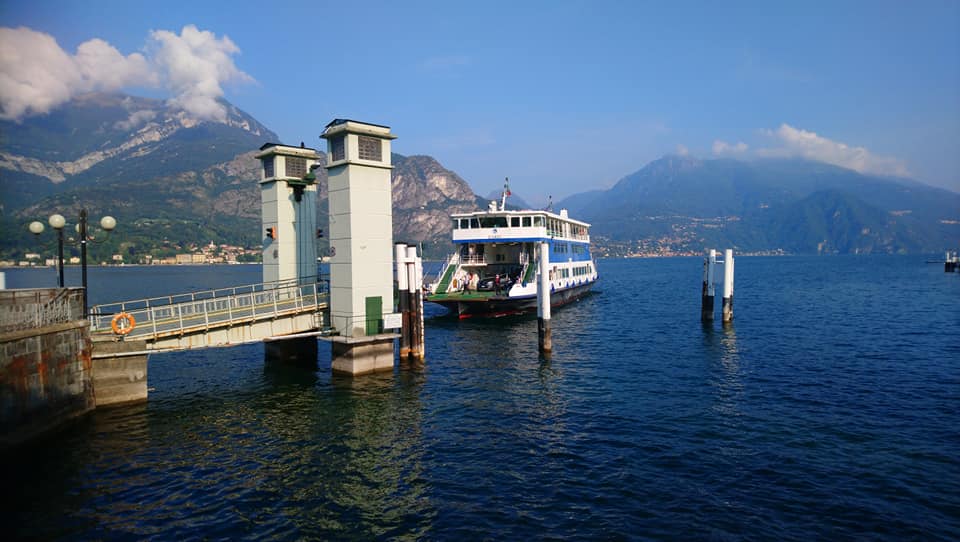 Efter færge turen tog jeg lidt op af nogle bakker mod San Nazzaro Val Cavargna, og det var skønt at komme op i højderne, for det var omkring 24-30 grader ned ved vandet, og det er lunt i mc tøj, hvis jeg skal være ærlig, og det var skønne veje og jeg fik set en del flotte steder på ruten.
Herfra tog jeg miljøruten mod Domkirken i Como, for jeg havde hørt lidt om det inden min rejse, også ville jeg lege lidt turist.
Jeg bliver ofte spurgt, om det er svært med parkering af mc ved seværdigheder.. Jeg oplever her i Sydeuropa, at man gør lidt for mc folket og har parkering for mc og scootere tæt på seværdigheder, og det var også tilfældet i dag.
Efter lidt kultur tog jeg retur til overnatningsstedet 'Tre Rose Ristorante' i Nesso, og chefen bød mig velkommen, og vi fik en kort snak over et par kopper cappuccino.
5. september 2021
På dagens etape valgte jeg at fokusere på at komme fra Como søen til Aosta hurtigst muligt, så jeg havde god tid til at kører i bjergene, så derfor satte jeg dagens første målpind blev sat ved Aosta, også tog jeg hurtigste vej dertil, selvom det indbefattede lidt brugerbetaling for at køre på motorvejen.
Selve udgiften glemte jeg relativt hurtigt, da jeg var på vej over Colle de Arpy, som man kommer over via SR39. Det er ikke noget særligt pas, og det var lidt tilfældigt, at jeg kom ind på det, men det var en fin opvarmning til Sankt Bernhard passet, som er grænsen mellem Italien og Frankrig, og her møder man temmelig mange motorcykler.
Herfra tog jeg mod Col de L'Iseran, og på vejen dertil kom jeg forbi Barrage de Tignes, som er en flot dæmning.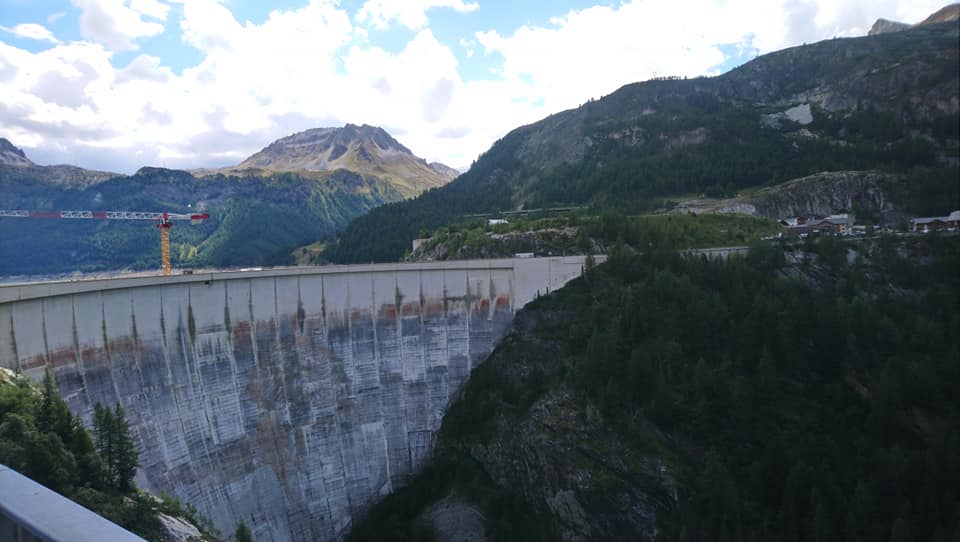 Herfra kom jeg videre igennem Val d'Isere, hvor jeg besluttede for at få tanket op. Da jeg skulle til at tanke opstod der lidt panik, for mit visa kort var ikke i pungen, så tanktasken blev vendt på hovedet og alt blev vendt. Heldigvis fandt jeg det, også kan jeg vel lære, at man skal sætte det retur i pungen igen, når man har betalt for betalingsveje.
Mens jeg rodede kom et par amerikanere på franske udlejningsmotorcykler, og da deres kreditkort ikke virkede og jeg havde fundet mit, så hjalp jeg Angela og Vladimir med at få tanket deres maskiner via mit kort, også fik jeg kontanter af dem.
Dejligt, når motorcyklister kan hjælpe hinanden, og hjælpsomhed oplever jeg ofte, når man møder andre motorcyklister i nød.
De fortalte mig, at de ville videre på rundtur, som omfattede Schweiz, og jeg anbefalede dem at få klistermærke til motorveje og landeveje, for jeg har lidt erfaring med, at grænsevagterne er lidt optaget af, at man har betalt de 40€ vfor sådan et klistermærke.
Col de L'Iseran var meget velbesøgt, og det væltede rundt med glade folk, som alle skulle have taget selfies og billeder af deres mc, og jeg holdt mig ikke tilbage.
Det var også her, at jeg gik booket dagens overnatning lidt udenfor Susa i Italien, og jeg kommenterer ikke priser på overnatning, men jeg kan sige, at jeg brugte en del mere end vanligt, men så fik jeg også med udsigt til borgen ved Exiles, men det var ikke pengene værd, da deres aftensmad havde meget at ønske.
Men inden jeg nåede frem til overnatningstedet kom jeg forbi en inddæmmet sø ved Mont Cenis (2.083m).
6. september 2021
Så kom dagen, hvor min stolthed måtte lide et knæk, fordi Helena smuttede rundt i noget mudder og fik smadret hendes vindskærm og stødt den ene sidetaske en hel del, men jeg slap nådigt fra uheldet med lidt øm knæ og et lidt ømt skrog.
Det er jo desværre en af de ting, som kan ske, når man som jeg fejltolkede et skilt på en af bjergvejene. Jeg havde læst det som om, at man ikke skulle fortsætte ud af vejen, men dreje ned af en vej, som gik stejlt nedad og en forankørende bil havde lige gjort, så jeg fulgte den samme rute 1½ minut efter bilen.
Det viste sig så at være en dårlig idé, for kort efter endte jeg i en masse mudder, og en stejl hældning også skred fordækket ud, og jeg panikkede og tog forbremsen, også lå vi der.
Med en masse adrenalin i kroppen efter styrt, så rejste jeg en komplet læsset motorcykel fra jorden og fik den op at stå. Jeg forstår stadigvæk ikke, hvor jeg fik de kræfter fra, men op kom Helena, og jeg fik hende tilbage på en asfaltvej ret hurtigt. Kort efter kom en billist og han stoppede for at sikre sig, at jeg var okay, og det kunne jeg berolige ham med, at jeg var.
Der er ikke taget billeder af gerningsstedet, så I må nøjes med min beskrivelse af det, men inden alt dette sket, så kom jeg over en masse bjergtoppe i Frankrig og Italien.
Jeg startede ud med at komme fra Exilles efter lidt morgenmad, også havde jeg en plan om, at jeg ville prøve kræfter med Colle del Sommeiller, da jeg havde set en masse skønne billeder herfra inden afrejse, men da var kommet et godt stykke ud på grusvejen, som gik det sidste stykke ud mod toppen, så måtte jeg give fortabt, da det regnede og var lidt for spændende at køre i for mig, så jeg valgte ikke at tage nogen chancer, og når man tænker på det, som sker senere, så kan man måske undre sig lidt.
Jeg kørte retur og kom over toppen på col de Montgenevre, som ligger midt i en by, der bærer meget præg af skiturister, men sådan er det jo mange steder i bjergene, at det er for skiturister om vinteren, og for mc folk, cyklister og vandrere om sommeren.
Der var ikke så meget at se, så jeg fortsatte videre mod Briancon med N94, så jeg senere kunne komme ud med P902, der skulle få mig over Col d'Izoard også videre med D2057 mod Col Agnel inden jeg to SP113 mod Colle Fauniera, og det var kort efter toppen her, at jeg havde mit føromtalte styrt.
Heldigvis havde jeg booket en overnatning i Pietraporzio kort forinden, så det var blot at køre de sidste 40-45 km inden jeg kom frem, og her mødte jeg en ældre lokal kvinde, som ikke kunne andet end italiensk, men via håndfakter og deslige, så erfarede hun, at jeg var gæsten, og hun beklagede mange gange, men corona gjorde, at hun ikke lavede morgenmad, men jeg fik et kæmpe køkken, flot værelse med eget badeværelse helt for mig selv, og der var god internetforbindelse, som jeg gjorde brug af, da jeg skulle fortælle andre om dagens oplevelser.
Heldigvis var min medskribent kommet hjem, så han blev krisehjælp og ved fælles hjælp fandt vi lidt mc forhandlere i Cuneo, som jeg ville besøge dagen efter, så jeg kunne få skaffet en ny vindskærm, for turen skulle ikke slutte her.
Her er så det sidste billede med den gamle vindskærm.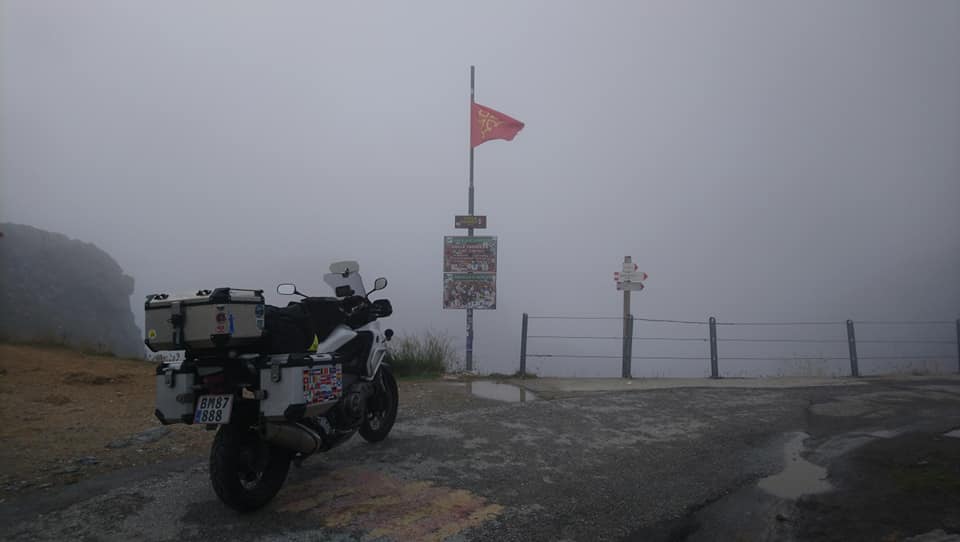 7. september 2021
Efter gårsdagens hændelser, så kom dagen, hvor der skulle findes en løsning på vindskærm, og ved hjælp hjemmefra fandt vi en adresse på en Honda forhandler i Cuneo. Der kørte jeg til fra morgenstunden. Men desværre havde de ikke nogen vindskærme til salg, da de primært solgte motorcykler ved denne forhandler, og da der heller ikke lige stod en anden Crosstourer i butikken, som vi kunne have "lånt" vindskærm fra, så var gode råd dyre.
Jeg lånte en hammer, så jeg kunne få banket mine sidetaske nogenlunde fin igen, og i mellemtiden havde service chefen på min opfordring kontaktet hans nærliggende Honda forhandlere og efter en god times tid, hvor han snakkede med en masse, så lykkedes det for service chefen at finde en kollega i en butik, som havde en liggende, men det var en lille vindskærm, men jeg sagde "deal", også var Helena og jeg på vej mod den anden forhandler, som lå godt 35 km derfra.
Da jeg kom frem, så fandt jeg igen frem til ham, som aftalen var indgået med, men der skulle lidt fakter til, og efter lidt snak om prisen på den brugte vindskærm, så gik en professionel mekaniker igang med at skifte til en lille original vindskærm og resultatet ses herunder.
Som det tydeligt fremgår, så tager den nye vindskærm ingen vind men den beskytter GPS'en, så der gik ikke mange timer, før en ny Givi vindskærm var bestilt, så den kunne ligge klar, når jeg kom hjem fra turen.
Selvom hele formiddagen gik med at skifte vindskærm, så jeg var meget heldig at nå et tidsvindue imellem kl 12-13, hvor vejen fra den italienske side til Col de Lombardet var åben. Ellers var den lukket pga vejarbejde. Så lidt held var der i den nye vindskærm.
På toppen af Col de Lombardet lagde jeg planen for resten af dagen, også bookede jeg en overnatning lidt fra Col de Vars, som jeg ville nå efter at have passeret Col de la Bonette.
På vejen mellem Col de Lambarde og Cold de Bonette gjorde jeg et par stop og fik givet mine lår lidt kølende creme, for de var temmelig ømme efter gårdagens anstrengelser.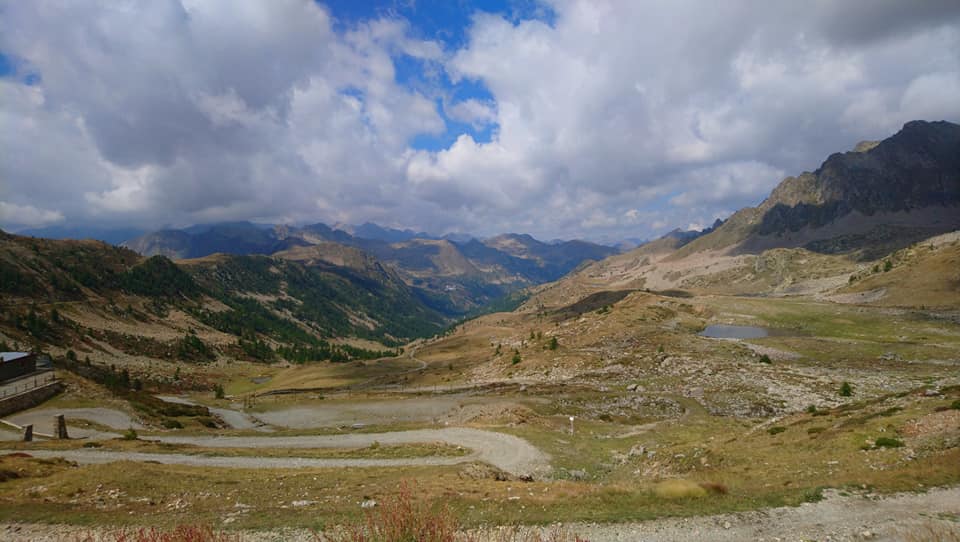 Col de Bonette er et fantastisk pas, og det kan anbefales at krydse det. Jeg vil dog lige sige, at man skal lige huske at få den lille rundtur på toppen (Cime de la Bonette) med, så man kommer op i 2.805 meters højde og får den skønne udsigt heroppe fra.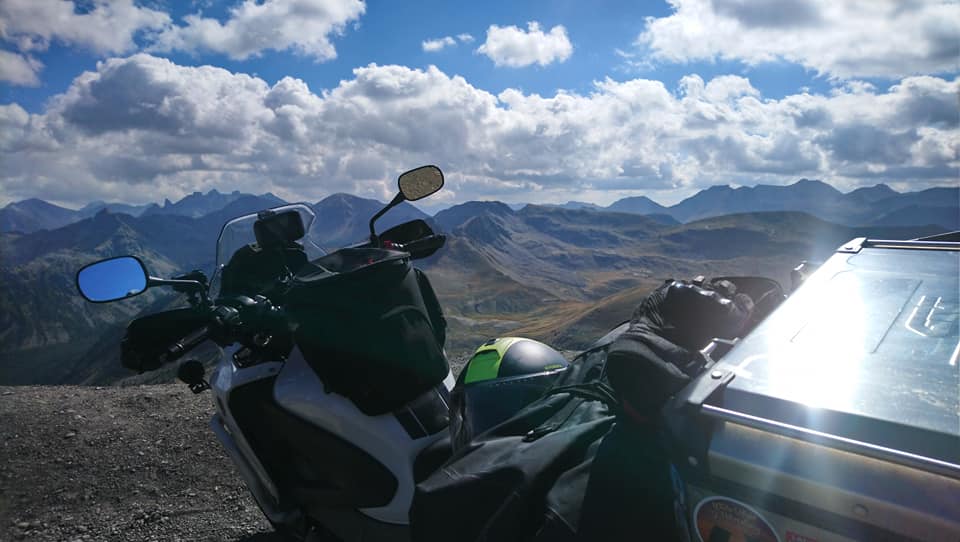 Efter en stor oplevelse på col de la Bonette så måtte jeg konstatere, at col de Vars ikke helt kunne måle sig, men det var da et fint bjergpas.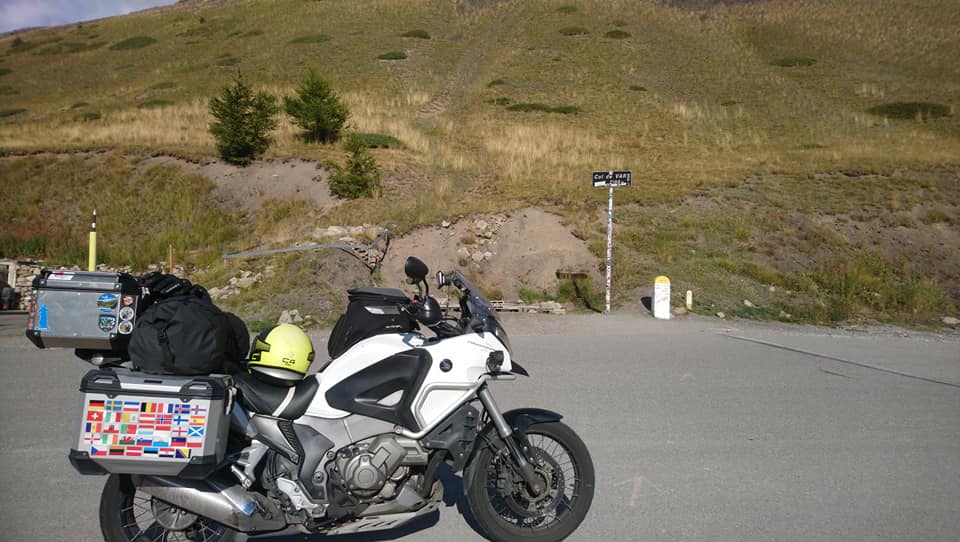 Da jeg kom frem til overnatningsstedet blev jeg taget vel imod af en gravid værtinde, og hun snuppede hurtigt min taske og viste mig mit værelse, og den fine carport, hvor Helena skulle overnatte, også kunne hun oplyse, at der var mad omkring kl. 19.00.
Blot til information, så kan jeg fortælle, at jeg har for vane at skrive til overnatningsstederne, at jeg kommer på motorcykel og helt fra Danmark. Det har indtil videre givet mig en god service og imødekommenhed fra overnatningsstederne. Blot et lille fif herfra.
8. september 2021
Efter en god nats søvn var kromutter igen klar med lidt god morgenmad, og mens jeg nød den, så begyndte jeg at glæde mig til, at jeg skulle forbi Mont Ventoux, som i Tour de France øjne er bedre kendt som det skaldede bjerg.
Det var med stor forventning, at jeg krydsede Col de Vars fra den anden sidde og fortsatte mod Col d'Allos, som også var et fint pas, som jeg ikke kendte så meget til, men da vejret var skønt, så kunne udsigten nydes.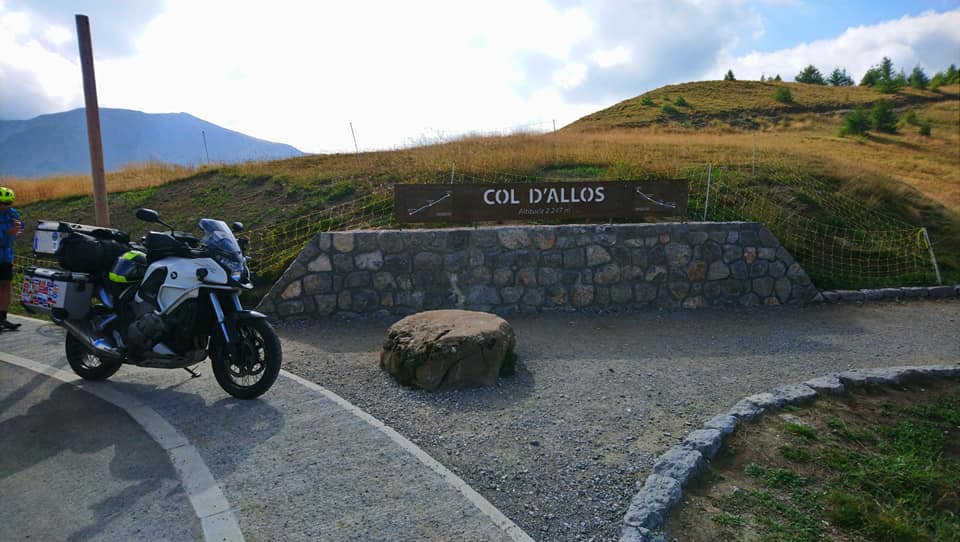 Fra Col d'Allos valgte jeg miljøveje frem mod Lac de Castillion, hvor jeg kom ned og kørte helt tæt breden, og det var et virkelig smukt sted, hvor jeg gjorde stop til en lille frokost, da vejret indbød til det.
Herefter var det tid til dagens højdepunkt, og jeg må indrømme, at Mont Ventoux ikke skuffede. Vejen hertil kom jeg over Col de Legues og en masse små byer, og det var først med 5 km til toppen, at jeg tydeligt kunne se toppen, men jeg havde dog fornemmet den i det fjerne omkring 40 km tidligere.
Jeg indrømmer blankt, at det er imponerende at se Mont Ventoux, og da jeg er lidt bidt af Tour de France, så var det noget helt særligt, og jeg følte mig lidt som en bjergrytter, som tog kampen op ad de fine veje mod toppen, og der var rigtig mange andre, som trods blæsten havde valgt det samme, men da vejene var fine, så var der ingen problemer.
Herfra kørte jeg mod mit overnatningssted i Montelimar, som jeg valgte af praktiske grunde, for det ligger tæt på en Tomtom rute, som jeg ville køre næste dag.
9. september 2021
Dagen efter Mont Ventoux havde jeg sat mig for, at Alpe d'Huez skulle være målby for dagens etape, men det sluttede ikke helt som forventet.
Som jeg skrev om gårdagen, så var det min plan, at følge TomToms route, der hedder "Route de Vertige", for den så ud til at være en fantastisk rute, og det var den også.
Jeg vil anbefale, at man tager Col de Rousset med på vejen, hvis man kommer fra Montelimar på vej ind mod "Route de Vertige", for det var virkelig en flot ture.
"Route de Vertige" er 123 km og det er sat til at tage 3 timer, når man downloader gpx filen fra Tomtoms hjemmeside, men jeg brugte vist 5 timer, for der blev stoppet en del og taget billeder, for det var et fantastisk landskab, og jeg har lavet en kort video fra turen, og den kan nydes, hvis man slukker for lyden.
De to i slutningen af videoen var behjælpelig med nedenstående billede, og det var jeg meget glad for.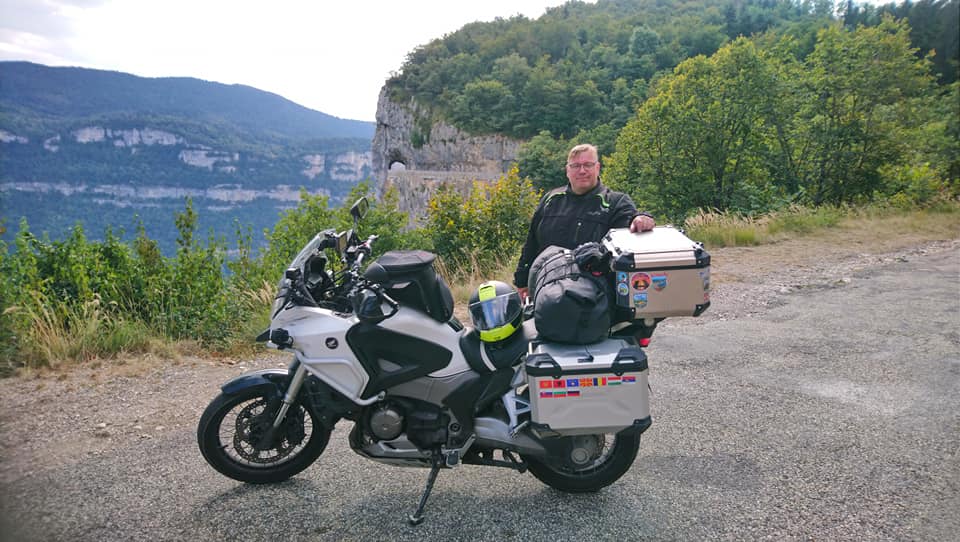 Da jeg kom tæt på Alpe d'Huez, så væltede regnen ned, og derfor besluttede jeg mig for vente til dagen efter og blot følge GPS frem til overnatningsstedet, og det rystede mig lidt at GPS efter 5 hårnålesving ved Alpe d'Huez drejede væk fra hovedvejen med de sidste sving, også kom ud på meget lille gedesti, som gik langs bjergsiden hen til Auris.
Ifølge hotelværten, så kommer alle med GPS den vej, for ruten beregnes til at være lidt hurtigere en den store hovedvej, men den var temmelig spændende, så kig eventuelt lidt på GPS inden du blot følger den. Men jeg må sige, at der er en dejlig udsigt fra Auris, og med en skøn seng og god aftensmad gik jeg til ro.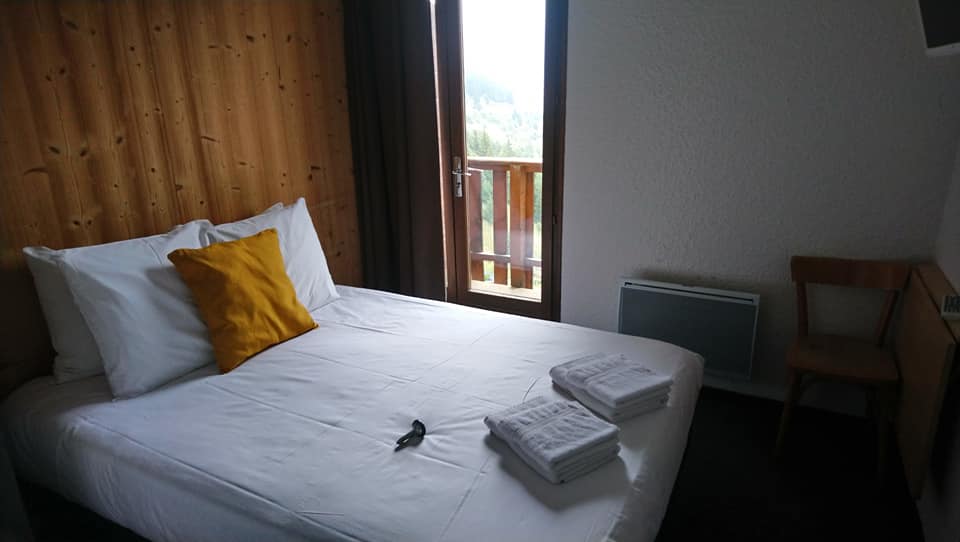 10. september 2021
En ny dag betyder nogen gange nye udfordringer, og det gjorde det for mig, for jeg måtte lige have assistance fra min bankdame fra morgenstunden, for jeg havde ramt min limit på Visa kortet, da jeg skulle betale for mit overnatningssted, men heldigvis var min bankdame meget behjælpelig, og vi fik det hurtigt fikset. Så det er ikke utænkeligt, at jeg tager to kreditkort med på næste længere tur.
Herefter tog jeg bagvejen fra Auris mod Alpe d'Huez, og da det var tørvejr så kunne jeg nyde turen noget mere. Jeg må ærligt indrømme at jeg havde forventet lidt mere af Alpe d'Huez, så jeg var lidt skuffet, men til gengæld så kom der lidt glæde, da jeg på den anden side af Alpe d'Huez og kørte mod Col de Sarenne over åbne vidder. Der var en fantastisk udsigt og vejene var tilpas udfordrende, og som lidt inspiration, så har jeg lavet en video fra turen.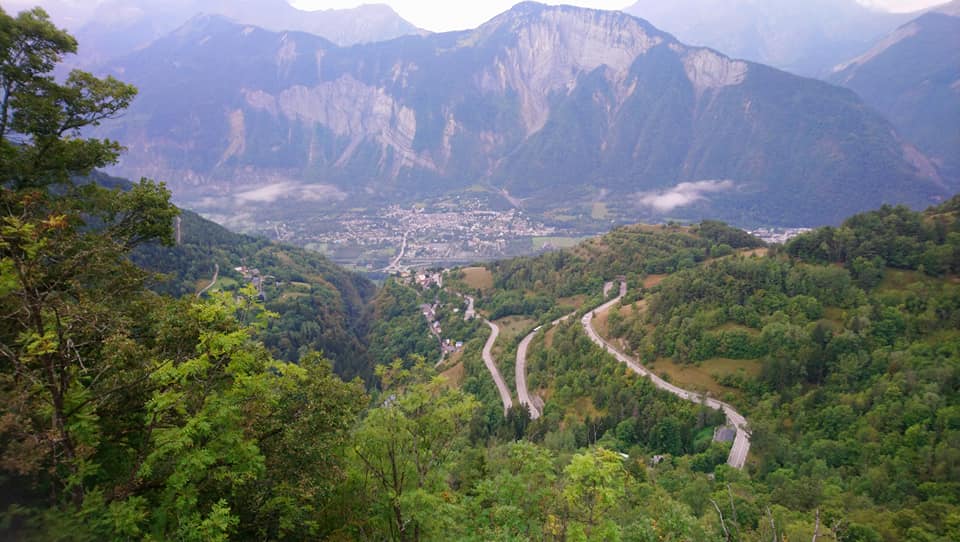 Herfra kørte jeg mod Col de Galibier, og her væltede det ind med mc turister og der var en rigtig god stemning på toppen trods de blot 9 grader. Jeg faldt i snak med et par andre motorcyklister, for det er jo en af de plusser, der er ved at rejse på mc. Vi fik også udvekslet lidt historier. Det er nemlig noget af det, som mc folk er gode til.
Herfra mod Col de Telegraphe, og her blandede flotte racerbiler og sportsvogne på vejene. Alt dette foregik i tørvejr, men jeg tog lige to pas mere trods lidt regn, og det var Col de la Madeleine og Col de la Croix de Fer, og de var rimelig udfordrende, så dem må jeg have tilgode i nyde i godt vejr på et andet tidspunkt.
11. september 2021
Denne dag vil jeg blot betegne som en transportetape, hvor jeg begyndte at bevæge mig hjemad igen, og det blev til en dag, hvor jeg kørte fra Albertsville til Ingersheim, for her fik jeg mulighed for at besøge nogle bekendte, som var på ferie hernede.
Vi fik snakket, grint, drukket kaffe og spist en god middag, før jeg kom fra dem igen. De anbefalede, at vi spiste i byen Riquewihr, som er en meget nostalgisk by, som jeg helt sikkert skal besøge igen, og det er ikke utænkeligt, at jeg tager en 3-4 dage hernede, for der var skønne marker og bakker at boltre sig i på motorcykel.
Efter en hyggelig aften, så kom jeg i nattens mulm og mørke over en lille bakke inden jeg ramte Sainte-Marie aux Mines, hvor jeg tog 7 km tunnel for at komme videre mod Lubine, hvor jeg fandt en overnatning på en bed and breakfast ved en ældre tysk biker.
Jeg har nærmest fået balsal til værelse og Helena overnatter med et par andre motorcykler i værkstedet, så det er bare helt perfekt.
12. september 2021
Endnu en transportetape, som kommer til at gå over i historien for mig og Helena, for det blev en lidt for lang dag på godt 1.100 km. Vi er begge godt trætte, og der går nok lige en dags tid eller mere inden vi skal på langfart igen.
Forhåbentlig har nogle af mine beskrivelser inspireret andre til at komme ud på ro hjul, for der er mange skønne steder og rigtig mange gode sving, som bare venter på os, der nyder kurver på 2 hjul.